MaxAir is your full-service provider for HVAC repair and installation
For over 15 years we have been providing professional HVAC services for residents in Glen Burnie and throughout Maryland. At MaxAir we understand the need for responsive, affordable, and honest repair services.
From AC Repair and installation to full system replacements, we can handle all of your needs no matter how big or small. Have a question or looking for a quote? Give us a call. 
We provide you with free, in-home, system replacement estimates!
Did you know we offer financing? Click here to Learn More!
Glen Burnie HVAC Repair, Replacement and Installation Services
Air Conditioning Repair and Installation
Is your AC failing to cool down your home? Does it seem to run more often than it should? Has it stopped working altogether? Our team can help fix your AC or replace it. 
Our technicians will troubleshoot the issues and take the time to explain the problems at hand and answer any questions you have. If your system needs to be repaired, they will work quickly and have your systems up and running in no time. If your air conditioning needs to be replaced we will offer free quotes.  
Furnace, Water Heater & Boiler Repair and Replacement
Is your heating system not working properly? Is it blowing cool air instead of warm? Are loud noises coming from the furnace or the ductwork? Did you wake up to a cold house where the heat has completely shut off? Let our team take care of your heating needs.
Our team will diagnose where the issues are coming from and help you to understand your options. No matter if your heat system is gas, electric, or geothermal we can repair it for you. And, if the situation calls for you to replace your existing heating system then we can help with that too!
Why Glen Burnie Residents trust MaxAir for their HVAC needs
MaxAir services all major brands of HVAC systems, and our diagnosis includes a complete analysis of your entire system.

We always provide our customers with premium, red-carpet service, and all our team members show protection and drop clothes so that it appears we were never even there.

We strive for same-day repairs (depending on part availability).

Most repairs come with 1-year warranty on parts and labor.

We are a flat rate company.

MaxAir uses a top-of-the-line computer dispatching program where you get a picture of the tech emailed to you when they are on the way. MaxAir customers receive can also receive their invoice via email, along with a picture of repairs made. We get information in real-time from the techs to our office.

Our techs are Nate-certified, highly trained, and always are on top of continued education.

We do not pressure our customers with sales and/or repairs. It's our job to educate our customers on their system and present them options so that they can make an educated decision as to what's personally best for them.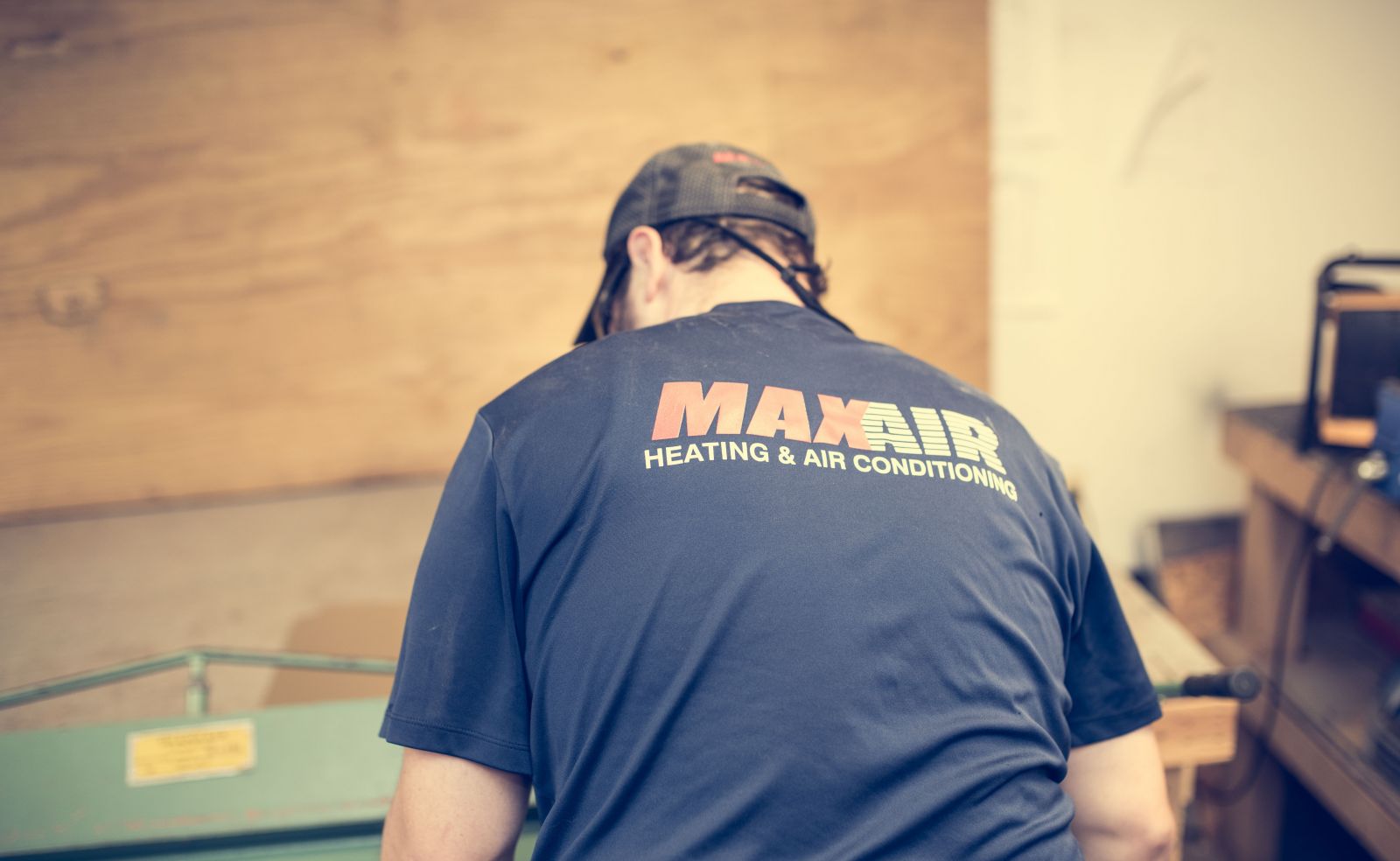 Contact us for a Quote or with your Service Request
Need your HVAC systems up and running fast!? Give us a call at 410.766.4989 or contact us online. We will schedule a convenient time to come out as soon as possible!